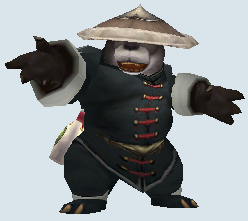 If you don't have the Pandarian Monk from the Blizzard store yet, it is on sale for 50% off this week only.  It is bind on account and will be learned across all your toons on your battle.net account.
This pet has been out since 2009 as a fundraiser for the Make a Wish Foundation, and raised $1.1M for the charity.  Unfortunately, new purchases will not be donated to the charity, which is a shame, although Blizzard plans to do more charity pets through the Blizzard Store (Moonkin Hatchling and Cenarian Hatchling were both also charity pets).
If you haven't seen this pet in action in game, it does a spinning crane kick and makes noises as it goes through a variety of Monk poses.
 Save big and prepare for Pandaria with a new sidekick. This week only, you can get the World of Warcraft Pandaren Monk companion pet for just $5. That's 50% off the regular price, making this a great time to round out your pet collection before the imminent arrival of the Pet Battle System.
Hurry, this offer ends September 17, 2012 at 11:59 p.m. PDT.